Prepay for 6 months and get DOUBLE the snacks on your first box! Prepay for 12 months and get TRIPLE the snacks on your first box!
By prepaying for your subscription you also become a Founding Member and receive a plaque with your name on our giant Rotten Fruit Box logo!
Our Variety Box contains all different fruits, no repeats, and changes almost completely every month. But you don´t need to worry, some fruits, like olives or lemon, we only send upon request!
Our Variety Box is our best value box!  
Each freeze dried fruit snack comes in a resealable plastic pouch
Each pouch contains just 100% freeze dried fruit. We wouldn't dare add anything else!
Each box contains all different fruits, no repeats!
Our freeze dried fruit is sourced from small local farmers.  Most of our fruit is hand-picked and grown using pesticide-free sustainable agriculture. Read more about the story behind our fruit.
Ideal for home, school snacks or at the office
Unlike fresh fruit, our fruit never rots, and keeps all its nutrients and vitamins for months or even years!
Freeze-dried kiwi, sour cherry, peaches, figs, raspberries, strawberries, watermelon, persimmons, and blueberries are just a few of the freeze-dried fruits you might find in our Freeze Dried Variety Fruit Box.
TO ORDER: Pick the number of freeze-dried fruit snacks (9 or 16), and choose if you would like to make a one-time purchase or subscribe.
Hint: Most customers subscribe to our Variety Fruit Box
Customer Reviews
Write a Review
Ask a Question
Filter Reviews:
fruit
fruits
taste
kids
idea
Tony
Something
sour cherry
snack
course
03/24/2020
Anonymous
United States
I recommend this product
Great Idea
I love every bit of my Rotten Fruit Box!
03/21/2020
Michele G.
Australia
I recommend this product
Great Idea
Certainly find the company a joy to engage with. The product is as promised and with advice from RFB I am using fruit in recipes and no doubt will use more in our winter.
03/17/2020
Anonymous
United States
I recommend this product
Mandarins are divine
Loved the mandarins and the black currents. Red currents are a tad sharp, but still really yummy.
03/17/2020
Annika S.
Sweden
I recommend this product
Love it!
I think this is a great concept and I loved the box. I was a little surprised by the fruits, I didn't realize what "freeze dried" means. I though the fruit would be small, wrinkled and mushy (like a raisin) but it is completely dry and you can break pieces off with your hands or almost make powder of it. I think I would prefer if it was more like raisins, but I also understand it's another process and might not be as sustainable.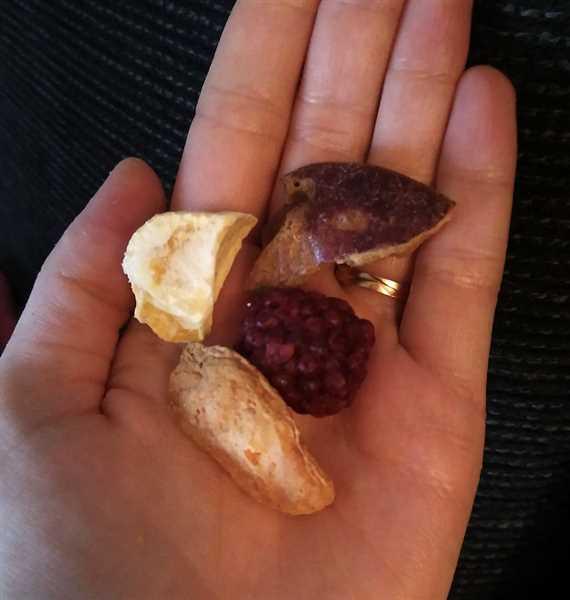 03/10/2020
ELIZABETH F.
Canada
I recommend this product
Everything I could have wanted and more
I loved my box! All the fruit was tasty and fun and a great easy snack that made eating fruit so convenient. I will honestly probably do a monthly subscription because it's so affordable for the quality and I love the intent of the company