Limited edition freeze-dried apple in "piri-piri" or sweet smoked paprika flavors. Add a little spice to your snacks with this freeze-dried apple snack. Just choose your flavor and you are ready to go!
Buy 9 or more single snack pouches and get 10% off each pouch! Use coupon code GET9 at checkout
Each freeze dried apple spicy fruit snack comes in a resealable 100% recyclable pouch
Each pouch contains just 99% freeze dried apples and 1% spice
Each snack pouch contains 1 to 1.1 oz (about 26 to 30 grams) of freeze dried spicy apple slices. That is equivalent to about 10 oz of fresh apples per pouch (about 300 grams).
Each freeze dried apple snack contains the equivalent to two whole fresh apples! 
Our freeze dried apples are sourced from local farmers. Hand-picked, organic, grown using sustainable agriculture. Read more about the story behind our fruit.
No sugar added!
Take our fruit snack pouches to school, work, eat them at the office, or at the gym. They make the perfect fruit snack for the home too. You can take them anywhere!
Unlike fresh fruit, our fruit never rots, and keeps all its nutrients and vitamins for months or even years!
Buy 1 single pack or as many as you want. Get only the fruits you want!
You are guaranteed the best selection of fresh and healthy freeze-dried fruits.
Customer Reviews
Write a Review
Ask a Question
Filter Reviews:
fruit
portions
selection
eater
repeat customer
value
mouth
apple
blackcurrants
peach
02/21/2021
Colin C.

United Kingdom
Spicy Apple loviliness!
Lovely!
09/05/2020
Anonymous

Canada
My son loves them!
I'm very happy with the box. My 5 year old who is a particular eater will try all of the fruit that comes. He loves most of them! Fruits that he won't eat ripe he will eat freeze-dried!
01/03/2020
Leah G.

Canada
Great for snacking!
I bought Rotten Fruit Box packs for stocking stuffers this year and our family members absolutely loved their goodies! Of course I ordered extra for myself because they make perfect snacks at work, in the car, and on the couch!
11/17/2019
Isabella V.

Canada
Can't find this anywhere else
Awesome products! I am so happy they ship internationally because I cannot find freeze dried fruit here. No more digging through boxes of Special K for me! For the products I love, I wish the portions were bigger but overall it is pretty good value. Really wide selection of products. Very responsive and friendly.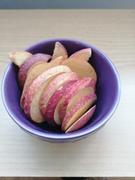 12/02/2020
Philip F.

Netherlands
Hit or miss, I guess mostly hit
I really like the company concept. I bought it as a snack replacement, so I eat them straight. Blackcurrant was super tangy, apple and peach were tasty. I'm not 100% in love with the texture, but there is some good flavor there. Melting them in your mouth definitely lets the flavor rush to your tongue, but if you quickly eat them, you won't get much. The packaging is fine, however there were definitely errors on the labelling that made me doubt how legitimate their information value was (I think it listed 600% of daily fat from the blackcurrants, which I think are almost fat free?). I would not recommend Olives - the green olive was frankly terrible and I love olives. If this company keeps improving, I can definitely see myself being a repeat customer.