Prepay for 6 months and get DOUBLE the snacks on your first box! Prepay for 12 months and get TRIPLE the snacks on your first box!
By prepaying for your subscription you also become a Founding Member and receive a plaque with your name on our giant Rotten Fruit Box logo!
Enjoy a hand-picked selection of four different freeze-dried in-season fruits in every box.  Each month we pick the four best in-season fruits to send you.
Want to receive all different fruits in your box? Try our new Variety Box with no repeats!  
Each freeze dried fruit snack comes in a resealable pouch
Each pouch contains just 100% freeze dried fruit. We wouldn't dare add anything else!
Our freeze dried fruit is sourced from small local farmers.  Most of our fruit is hand-picked, organic, and grown using sustainable agriculture. Read more about the story behind our fruit.
Ideal for home, school snacks or at the office
Unlike fresh fruit, our freeze-dried fruit never rots, and keeps all its nutrients and vitamins for months or even years!
Each box you buy helps reduce food waste, which is responsible for 8% of greenhouse gases, one-fourth of freshwater usage, and represents one-fifth of the trash in landfills.
Freeze-dried apples, pears, peaches, figs, raspberries, strawberries, bananas, persimmons, and blueberries are just a few of the freeze-dried fruits you might find in our Freeze Dried Seasonal Fruit Box.
TO ORDER: Just pick the number of freeze-dried fruit snacks (4, 8 or 12), and choose if you would like to make a one-time purchase or subscribe
Customer Reviews
Write a Review
Ask a Question
Filter Reviews:
fruit
blueberries
fruits
taste
texture
kids
idea
variety
snack
apples
02/21/2020
Anonymous
Canada
I recommend this product
First Time Buyer
I really enjoyed my rotten fruit box! The fruits I received were strawberries, blueberries, raspberries, and blackberries. They were all very delicious. I have to mention the great customer service too. There was a mix up with the delivery and they sent me another box right away! Very pleased and will definitely purchase again.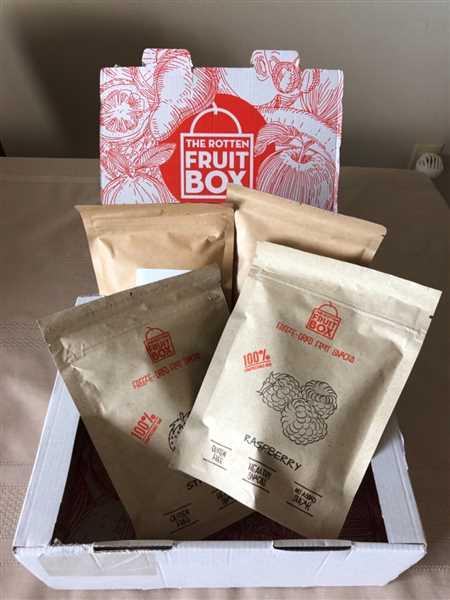 02/19/2020
Anonymous
United States
I recommend this product
Delicious
I love it. What a fantastic idea. My favorite are the persimmons and strawberries so far. The oranges don't dehydrate well, but could be used in ways I haven't found yet.
02/19/2020
Anonymous
Canada
I recommend this product
Delicious guilt free snacks
I've had several boxes so far and the quality of the fruit is top notch. Everything perfectly ripened. Satisfies my need for crunch without the added calories, fat and processed food.
02/13/2020
Anonymous
Hong Kong
I recommend this product
Rotten Fruit Box - Loved the concept but the fruits even more!!
The wait for the arrival of the 1st box wasn't as long as I had anticipated. It was well-packaged and the fruits contained were awesome and delicious! We didn't encounter any problems with berries being crushed etc. We loved the strawberries; blueberries; peach and kiwi but not so much the mandarin. As we prepaid 6-month of fruit boxes, we can't wait for next month's order to arrive!
02/13/2020
Anonymous
United States
I recommend this product
Fun alternative to traditional snacks
Pretty good! Nicely packaged and very tasty